CHILDCARE
Kids' World: Drop-in Childcare (3 months – 10 Yrs)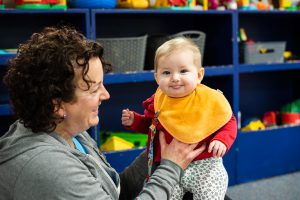 The Y is here to help you achieve balance in your busy life. We'll watch your children while you work out! Our Kids' World services are provided for parents with a Family or Parent/Child Membership while you attend classes, use the Y for fitness, or participate in activities within the facility. Our goal is to provide a safe, enriching, and fun environment for your children.
Children play under the supervision of caring, trained YMCA staff. 
PHASE 1 REOPENING GUIDELINES
To ensure the safety of our staff and the children in our care, Kids' World will be operating a bit differently during the first phase of our reopening. Please note the following:
Hours: 8:45 AM to 12:00 PM, MON-FRI
Capacity: 10 children per time slot
Time Slots Available: 8:45 AM – 10:15 AM, 10:30 AM – 12:00 PM
Additional Safety Measures
We ask that all parents pre-screen their children prior to entering the Y and Kids' World. If your children have any symptoms of COVID-19 or have been exposed to someone with symptoms, please do not enter the Y. Children will be required to wash their hands prior to entering the play area. Parents will need to remain 6-feet apart while waiting to check their children in. The play areas will be sanitized between each time slot. Please contact our Member Childcare Services Coordinator, Elizabeth Dahlstrom, with any questions.
ACE Place: Action Center for Exploration (3 – 10 years)
CLOSED DURING PHASE 1 OF OUR COVID-19 REOPENING
Allow your children to explore and discover while you are are involved in Y activities within the facility. Your child has an adventure waiting for them on the slides, tunnels, and much more. Parents are welcome to stay and play with their child at no charge or leave them well attended during our Supervised Drop-In times.
See our Program Guide for more details and daily schedule.