Donate & Make a Difference

100% of your donation stays with the Tri-Cities Family YMCA to serve the greatest need. 
Below are a few examples of how far your gift can go.
$50
Offers children the opportunity to learn life-changing water safety skills through 7 weeks of swim lessons, or a chance to build confidence and self esteem through a gymnastics or youth sports program.
$200
Can send one child to summer camp for a week. This support allows families in need to afford Y Camp offering children a safe place to go while parents work.
$500
Enables 5 children to participate in our Youth Basketball League and thus begin a healthier lifestyle, develop teamwork skills and grow into a healthy adult.
$2500
Builds a strong family foundation by providing two family memberships and one year's worth of youth programming for families of four.
CURRENT COMMUNITY IMPACT
Over the past several months, the Tri-Cities Family YMCA has remained dedicated to strengthening the community. Your support will help sustain individuals and families in the Tri-Cities for a stronger, healthier us.
Community Impact – The Y is here for good
1,235 individual weeks of Summer Day Camp delivered to 269 unique campers.
Free and subsidized lunches provided to campers in need and 6,175 healthy snacks served over 11 weeks
75 minutes of nutrition education and 90 minutes of physical activity provided to every camper every week.
Safety Around Water swim instruction for youth
Licensed childcare for families
Preschool for local children
Thrive at the Y school-age care program created for remote learning students
Community Food Drive donation site so our neighbors don't go hungry
Senior curbside meal distribution in collaboration with AgeWell Services of West Michigan and YMCA's Veggie Van
Hosting Red Cross blood drives to meet critical need
Virtual Coast Guard City USA Run
Senior and vulnerable population outreach to ensure their needs are being met
School supply donation site
Virtual fitness classes, story times and activities for all ages to enjoy from home
Outdoor fitness classes and outdoor gym
Financial assistance provided to ensure everyone has access to the Y
Thanks to generous gifts and community grants, the Y is able to provide much-needed services to children, adults and families throughout our community.
MAKING AN IMPACT ALL YEAR LONG
You can make a meaningful, enduring impact right here in the Tri-Cities community. Click the DONATE button on this page to donate online, stop in to donate in person, or mail your donation to:
Tri-Cities Family YMCA, Attn: Annual Campaign, 1 Y Drive, Grand Haven, MI 49417.
Every gift to the Tri-Cities Family YMCA strengthens our community and makes a difference in the lives of each individual we serve.  It is only through generous support we are able to provide financial assistance to ensure every child, family and adult has access to the Y. Please contact our Philanthropy and Administrative Coordinator, Elizabeth Huisman to explore how you can get involved in making a lasting impact.
Help us continue to improve lives and increase our impact by making a donation to our Annual Campaign. This year the Tri-Cities Family YMCA will provide over $200,000 in free or discounted programs and membership benefits to people in our community who need our help, including:
Memberships for 716 individuals & families
Free Healthy After School Program for local youth
Sports & Aquatic Programs for 130 youth, adults and seniors
Free Diabetes Prevention classes
Summer Camp & Preschool for 100 children
Free lunches for qualifying Summer Campers
Free Pedaling for Parkinson's for those struggling with the disease
Memberships for 37 local Military & Coast Guard Personnel
Free Safety Around Water Training for over 200 local elementary students
Free Fitness & Nutrition Education for all ages
Stories like Frank's, shown below, remind us why the Y is such an important part of a healthy, vibrant community. Click here to donate and make a lasting difference.
IMPACT EVENTS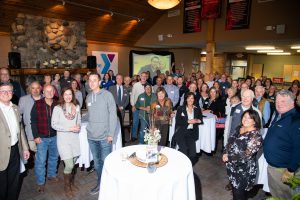 2019 Annual Campaign Celebration
On October 16, 2019 guests experienced the impact created by community commitment to the Tri-Cities Family YMCA. Every day the Y supports local children, families and adults by fostering education, development, health and belonging. It was a magical evening of celebration with cocktails, appetizers and conversation. Together we are creating a better us.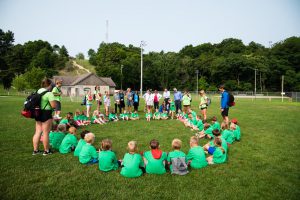 2019 Morning at Camp
On July 8, 2019 guests participated in an interactive, informative morning at summer camp. They experienced first-hand how the Y is making an impact and learned that 1 out of every 4 campers receives financial assistance from us. Camp doesn't have to be a luxury; thanks to community support we are able to keep our promise of making camp available to all children.
COMMUNITY PARTNERS
Thanks to our volunteers, members, staff, vendors, donors and partners we are able to transform lives in our community every day. We truly appreciate everyone making so much possible with their dedication, support and generosity. Together, we are building a better community! Here are a few examples of that impact:
GVSU – Integration Counselors provided to campers with exceptionalities at no extra cost
Love In Action - Homeless provided a safe place to strengthen their bodies and their minds free of charge
The Chamber of Commerce Grand Haven, Spring Lake, Ferrysburg - Professional Development Training for young adults
Licensed & Accredited Summer Day Camp, meeting over 320 rigid standards
All Tri-Cities area schools - 7th Grade Initiative provides free membership to 7th graders the entire school year
Lake Effect Kitchen - Healthy food available to summer campers
Momentum Center – Swimming pool available
Four Pointes – Senior swim class available
Ottawa County Parks – Educational field trips for youth
Tri-Cities Historical Museum – Informative field trips for youth
COMMUNITY FUNDING
Here are examples of organizations that help fund our programs and services:
JSJ Foundation – Summer Camp support
Michigan Alliance – Free healthy snacks for and after school program for children & teens
Grand Haven Area Community Foundation – Camp Counselor development and training
Greater Ottawa County United Way – Day Camp support
DONOR OPPORTUNITIES
Click here to donate and make an impact.
Community Donors
No gift is too small. Every gift makes a difference. You may make a one-time gift or give monthly.
Corporate Matching Gifts
You may be able to increase the impact your donation makes to the Tri-Cities Family YMCA. Many employers offer programs where your contribution to the Y is matched by the corporation or its charitable foundation. Contact your employer to see what's available and we'll assist you the rest of the way.
 Chair's Round Table
Through the Chair's Round Table, we recognize those donors who have advanced their support by making annual contributions to the Y of $1,000 or more. These individuals, businesses and other community organizations enable us to enrich and expand our mission of strengthening the community.
​It's easy to join the Chair's Round Table. Just make a contribution totaling $1,000 or more to the Tri-Cities Family YMCA by December 31.  You may give all at once or monthly to reach your total annual gift.
Planned Giving
The Torch Society was created to help support long-term sustainability for all our programs, services and scholarships. The society recognizes individuals and couples who have named the Tri-Cities Family YMCA as the beneficiary of any type of planned or deferred gift. The purpose is to acknowledge and thank those who have made these gifts and to encourage and inspire others to do the same. The knowledge of forthcoming gifts also assists the Y more accurately plan for the future. First, arrange your planned gift, then email elizabeth.huimsan@tcfymca.org, Subject: Torch Society with your completed Torch Society form.
 Members As Donors
As a member, you have the opportunity to share your Y with those who are struggling financially. You can make a one-time donation or round-up your monthly membership to make a recurring monthly donation. Please email Elizabeth Huisman to sign up today.
Staff Donors
As an employee of the Tri-Cities Family YMCA you get to both experience and contribute to the strengthening of our community. You can make a one-time donation or set up a recurring bi-weekly deduction through payroll by emailing Elizabeth Huisman.