Everybody Belongs at the Y
EVERYBODY BELONGS TO THE Y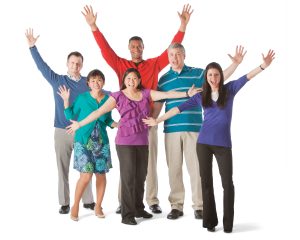 At the YMCA, we're more than just weight rooms, gyms & pools. When you join the Y, you belong to a community of people focused on your wellness, family, and helping others. It is our mission to help adults take charge of their health, spend quality time together as a family, develop relationships with neighbors, learn new skills and enjoy a laugh with staff and other members.
Because the Y is for everyone, we bring together parents and kids like no other organization can. The YMCA is a membership organization open to all people. The YMCA welcomes women and men, girls and boys of all ages, races, ethnicities, religions, abilities and financial circumstances. When you join the YMCA, you become part of a world-wide organization that helps members improve their total health and well being while building a stronger sense of community.  All YMCA members experience a sense of belonging and ownership that can't be duplicated.
We know firsthand how difficult it can be to find balance in life. That's why we're here with you every day, making sure that you, your family and your community have the resources and support needed to learn, grow and thrive. We incorporate our Core Values in everything we do.
Our fitness classes not only improve someone's physical health; they help unleash a new outlook on life.
Our family activities not only bring families together, they help families stay together.
Our youth programs not only teach children to dribble or how to swim, they provide kids lifelong skills like confidence and teamwork.
Community Pricing Scholarship Program
Everyone is welcome at the YMCA.  No one is turned away because of inability to pay.  If a person or family is unable to pay for membership, financial assistance is available through scholarships which are provided through donations from generous businesses, foundations, and individuals through our Annual Campaign. Learn more about our Community Pricing Program.
Statewide Membership
My Y is now every Y in Michigan.  We want to encourage members to utilize the Y as often as they can.  Sometimes, it's more convenient for members to utilize a Y in a different location when travelling, near a workplace, or in another region.  Now, Tri-Cities Family YMCA members have the flexibility to use other Y facilities throughout the state, at no extra charge.
Simply present your active YMCA membership care and photo ID at any participating YMCA and enjoy free access.
A.W.A.Y. Program
Our A.W.A.Y. (Always Welcomed At the YMCA) Program allows you to visit other Y's around the country while you travel, just make sure to bring your Y membership card. We allow 10 visits per year for members of other YMCA's to use our facility.  Need to find a Y?  Find one here!
Military Outreach Initiative
The Tri-Cities Family YMCA is proud to be a participant in the Military Outreach Initiative.  Deployment can be a stressful and uncertain time for our nation's servicemen and women and their families. In partnership with the Armed Services YMCA and the
Department of Defense, the Y is able to offer memberships to eligible active duty military families and personnel to give them extra support during deployment. It's our way of giving back to those who dedicate themselves to serving our country. Please check with our Welcome Center to see if you and/or your family qualify for assistance.
Corporate Membership Program
Become a corporate partner and begin a health & wellness program for your company that encompasses not just physical fitness but promoting healthy lifestyles. Participating in regular health and wellness programs provides employees with a wealth of positive results. Learn more about our Corporate Membership Program and partnering with the Y. Contact Membership Coordinator, Kristy Hubert, at 616-842-7051, ext. 233.