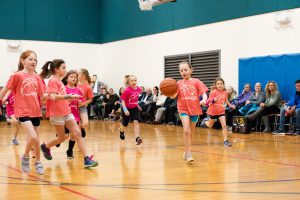 The Youth Basketball League (YBL) lost a valuable player this week. Earl O'Brien, credited as the founder of YBL among many other kid-centric accolades in the Grand Haven community, passed away on Monday, November 4, 2019.  Earl was a Volunteer Coordinator at the Y for many years and started the league to ensure all kids had the opportunity to participate in a traditional children's activity – youth sports. According to an early 90's article on the wall leading to the gym at the Y, the purpose of the league was to teach kids to be participants in life, not spectators. "Participation helps a child become a better citizen," said, O'Brien.  He also thought children grew up too fast and wanted them to enjoy childhood as long as they could. O'Brien was instrumental in the building of the first Imagination Station just up the hill from the Y and will be missed by many who saw him as a champion for children in the Tri-Cities area.
Become a YBL Sponsor and a Champion for Kids
Many businesses and organizations have the same philosophy as Earl when it comes to recognizing the importance sports plays in fostering positive youth development. Organizations like the American Legion Post #28, Modern Family Dental, Grand Haven Custom Molding, BlueWest Properties, JSJ Corp, Lakeshore Orthodontics and more, have already committed to sponsoring teams for the 2020 Winter season. More are needed to meet the demand for kids and families wanting to participate in the league coached entirely by volunteers. There are no tryouts and no child is cut. All kids get equal playing time. This approach supports O'Brien's theory that children will only try something a second time if they're successful the first time. He believed they could only feel successful if they actually made it off the bench.
If you or your business would like to become a sponsor, please see our recruitment letter and Sponsor Registration Form for more information. If you have questions, please do not hesitate to contact our YBL Coordinator, Allison Sides, at allison.sides@tcfymca.org. Registration deadline is November 30. See you on the court!