Dear Members,
I hope you are staying healthy and enjoying the holidays. I want to provide you with an update on programs and operations as we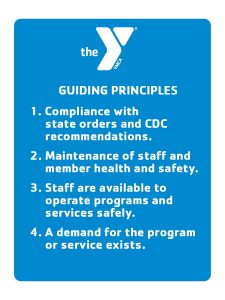 start registration for Winter 1. These changes are in response to the MDHHS Face Masks and Gatherings Order issued Dec 7. The decisions below were made using our pandemic guiding principles.
Youth Sports Unfortunately, we had no choice but to cancel the remainder of Fall 2 Youth Sports programs. We encouraged participants to watch for Winter 1 offerings to be posted on DEC 14.
Aquatics We were able to resume swim lessons and felt it was in our students' best interest to finish out the Fall 2 session.
Learning Tree Preschool Based on the guiding principles above, we felt we could end our voluntary closure and allow students to return to learning for the final week before the holiday break.
Group Fitness Classes are still not permitted until DEC 19. In response to this, our Health and Wellness Coordinator Brandy Fisher set up HIIT stations and music in the Multipurpose Room for members to complete individually.
The Y remains open and we encourage you to take advantage of the amenities that are still available, including:
Open Lane Swimming
Weight Room
Cardio Theater
Personal Training
Licensed Childcare
School-aged Care
Winter Break Camp
Open Gym
Lane Swim
We are doing all we can to prevent the spread of COVID-19 and appreciate everyone's patience and understanding. If you have any questions, please feel free to contact me. I hope everyone has a happy and healthy holiday season.
Sincerely, 
Greg Coil, CEO