Becoming Stronger Together
What is CrossFit?
All CrossFit "workouts of the day" (WOD's) are based on functional movements.  These movements reflect the best aspects of gymnastics, weightlifting, running, rowing and more.  By employing a constantly varied approach to training, functional movements and intensity can lead to dramatic gains in fitness.
What Can I Expect From CrossFit?
While CrossFit can challenge the world's fittest, the program is designed for universal scalability, making it the perfect application for any committed individual, regardless of experience.  Our coaches offer individual training in a group setting that truly becomes a community.  It is challenging, never boring, motivational, inspirational and builds a foundation for lifelong success.
How Do I Get Started?
We offer one "try-it" class, but this class must be pre-arranged with our Fitness & Wellness Director.  This class gives you an opportunity to learn more about CrossFit while our coaches assess your ability and mobility.  If you choose to join, we set up three 1:1 "On Ramp" orientation sessions with our coaches.  You will quickly, yet safely, phase into one of our 21 weekly WOD times. If you would like to schedule a "try-it" class, please email erica.phelps@tcfymca.org to coordinate a day and time.
Meet The Coaches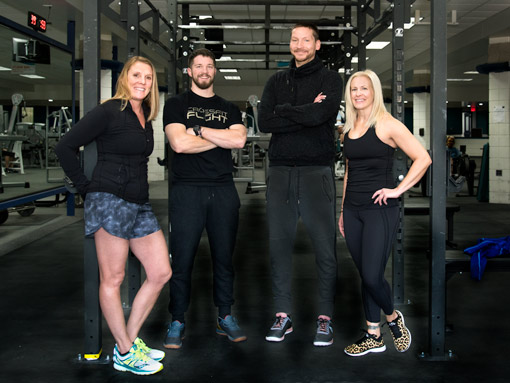 Pictured above left to right Coach Kim, Coach Zach, Coach Ben, Coach Lisa
 Why Should I Choose CrossFit Flight at the Tri-Cities Family YMCA?
We are one of over 13,000 CrossFit affiliates worldwide, but we are unique.  All of our CrossFit participants are members at the Tri-Cities Family YMCA.  This membership benefit entitles you to full access of the facility, including the pool, locker rooms, sauna, towel service, childcare, and more!